"Friedlieb Ferdinand Runge, le chimiste qui a découvert la caféine grâce à Goethe", dans Le Point

https://www.lepoint.fr/histoire/friedlieb-ferdinand-runge-le-chimiste-qui-a-decouvert-la-cafeine-grace-a-goethe-08-02-2019-2292215_1615.php?fbclid=IwAR0tzByYrNegJNZCya2mzg9w4bIhGdKT1L8p2DF8dgFMuqcK8Z7dnoxpwC8

Freewind33




Date d'inscription :

02/04/2018


Age

: 55


Machine à café

: Rocket Appartamento, Robot Cafelat, Bialetti 6t, French Press 35cl, Delonghi Dinamica FEB 3515.B


Broyeur

: Niche Zero, Eureka Mignon Chrome, El Commandante C40


Nombre de messages

: 821



Merci Freewind... pfouh y a un nom compliqué pour dire caféine... ! juste impossible en bouche ...

Gavroche




Date d'inscription :

10/02/2018


Age

: 59


Machine à café

: Delonghi et RENEKA. duo grâce au forum et la pavoni merci le forum !


Broyeur

: deux SANTOS 6


Nombre de messages

: 523


Localisation

: Lorrez le bocage 77 sud



K. M. MORONEY, W. T. LEE, S. B. G. O' BRIEN, F. SUIJVER, AND J. MARRA, "ASYMPTOTIC ANALYSIS OF THE DOMINANT MECHANISMS IN THE COFFEE EXTRACTION PROCESS", SIAM J. APPL. MATH., 76(6), pp. 2196–2217

https://epubs.siam.org/doi/pdf/10.1137/15M1036658



Freewind33




Date d'inscription :

02/04/2018


Age

: 55


Machine à café

: Rocket Appartamento, Robot Cafelat, Bialetti 6t, French Press 35cl, Delonghi Dinamica FEB 3515.B


Broyeur

: Niche Zero, Eureka Mignon Chrome, El Commandante C40


Nombre de messages

: 821



Alessandro Palmioli, Sara Bertuzzi, Ada De Luigi, Laura Colombo, Barbara La Ferla, Mario Salmona, Ivano De Noni, Cristina Airoldi, « bioNMR-based identification of natural anti-Aβ compounds in Peucedanum ostruthium Bioorganic Chemistry », Volume 83, 2019, pp. 76-86
résumé :
" We set up an efficient protocol for the rapid analysis of NMR spectra of green and roasted coffee extracts, enabling the automatic identification and quantification of metabolites in approximately two minutes per spectrum. This method allowed for the metabolic profiling and the subsequent evaluation of the content of bioactive compounds and antioxidant activity of coffee samples, depending on their species (Arabica and Robusta), geographical origin and extraction procedure (hydroalcoholic, espresso and moka).
The hydroalcoholic extraction is the most efficient method in terms of yields of low molecular weight compounds (in particular chlorogenic acids), while moka extraction provides the highest amounts of melanoi- dins. Moreover, that the ratio between health-giving compounds (chlorogenic acids, trigonelline and choline) and caffeine is higher in Arabica coffees.
The data collected provide useful insights for the selection of coffee raw material to be used in the preparation of coffee-based dietary supplements, nutraceuticals and functional beverages."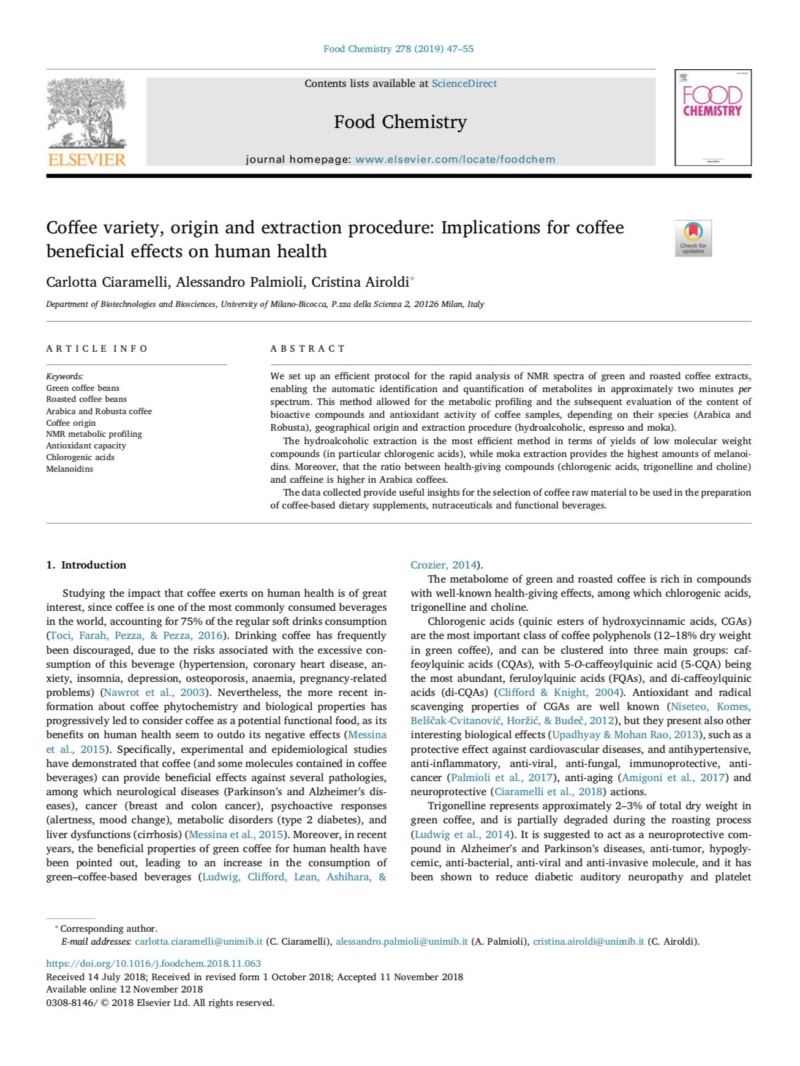 Freewind33




Date d'inscription :

02/04/2018


Age

: 55


Machine à café

: Rocket Appartamento, Robot Cafelat, Bialetti 6t, French Press 35cl, Delonghi Dinamica FEB 3515.B


Broyeur

: Niche Zero, Eureka Mignon Chrome, El Commandante C40


Nombre de messages

: 821





Sujets similaires
---
Permission de ce forum:
Vous
ne pouvez pas
répondre aux sujets dans ce forum